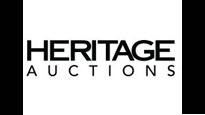 November 22nd, 2015 at 11:52 pm -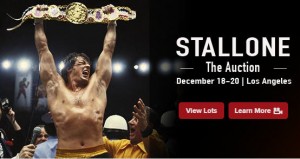 Heritage Auctions has published their "Stallone The Auction" catalog which features items directly from Sylvester Stallone himself. The auction lots include many original props, costumes, and ephemera from Stallone's vast movie career as well as artwork, jewelry, and personal items from his incredible life.
Per Heritage's announcement:
Imagine the thrill of owning Rocky Balboa's boxing gloves or John Rambo's army jacket.
One of the biggest movie stars of the world, actor, writer and director Sylvester Stallone — the only actor with the distinction of opening a number one film across five decades — will offer fans a chance to bid on more than a thousand iconic costumes and props from his famous action films, including the "Rocky," "Rambo," and "The Expendables" franchises. A portion of the proceeds from the auction, to be conducted by Heritage Auctions, will be donated to charities and organizations that assist veterans and wounded United States servicemen and servicewomen.
Regarding his consigned items, Stallone said: "I thought other people would really appreciate the memorabilia. So, rather than keep it all in storage I thought I should just pass everything on," he explained in an interview for the Fall 2015 issue of Heritage's The Intelligent Collector magazine.
There will be public exhibits in Dallas, New York and Los Angeles this summer and early fall of selected items consigned by Stallone. The auction will be held live and online by Heritage in Los Angeles on December 18 and 19, 2015.
"There are more than 1,400 props, costumes and personal items consigned by Mr. Stallone that will be available to his fans worldwide. He is an international superstar, and these items include some of the iconic, cultural symbols of clothing and props from his most famous and loved action films, the 'Rocky' and 'Rambo' series," said Greg Rohan, President of Heritage Auctions.
Fans can also bid on costumes and props used by Stallone in "Judge Dredd" (1995), the recent "The Expendables" movies and Rocky's Harley Davidson motorcycle that appeared in both "Rocky III" and "Rocky V" (1990).
Public previews of all the auction items will be at the Hyatt Regency Century Plaza in Los Angeles, December 16 – 19, with the auction conducted there on December 18 and 19.
"The dates and locations of the public exhibits of selected items in the United States, Asia and Europe will be announced in the coming weeks," said Rohan. "We anticipate a tremendous response by Mr. Stallone's fans around the world."
http://www.heritagestatic.com/c/i/articles/stallone/stallone-video-gio-recut.mov
Among the items that will be offered are

:
From the Academy-Award© winning 1976 film, "Rocky," the black leather jacket he wore in his role as Rocky Balboa and Rocky Marciano's boxing glove pendant trainer Mickey Goodmill (actor Burgess Meredith) gave to Rocky.
The boxing gloves Stallone used as Rocky and the World Heavyweight Championship Belt he won in "Rocky II" in 1979, and Rocky's "Tiger" Jacket worn in that film.
Rocky's boxing trunks from the match against Clubber Lang (Mr. T) in the 1982 movie, "Rocky III.
"
Stallone's screen worn, white "Balboa" boxing robe from the 1985 film, "Rocky IV."
A U.S. Army flag patch jacket Stallone wore as John Rambo in 1982 in the first film in the Rambo series, "First Blood