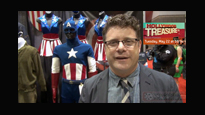 May 16th, 2012 at 12:33 am -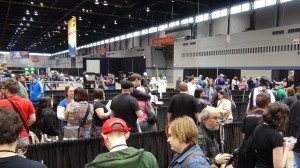 Movie Prop Collectors was at C2E2 recently and had the pleasure to speak with famed actor (as well as writer, director, and producer) Sean Astin.
Sean of course has starred in quite a few memorable films such as The Lord of the Rings trilogy, The Goonies, Rudy, Bulworth, Toy Soldiers, Click, Masters of Science Fiction, Monk, 24, the list goes on. Sean volunteers much of his free time to helping others with various civic groups including The National Center for Family Literacy,  The Creative Coalition, Peace First, and many others. He also served the Secretary of the Army as a Civilian Aide (Southern California) from 1995-2005.
While Sean was quite busy at C2E2 signing autographs and meeting fans,  he managed to take a few moments with Movie Prop Collectors to share a sneak peak about his upcoming appearance on the Sy Fy show, Hollywood Treasure premiering May 22nd at 10/9c on the SyFy channel.
Check it out.