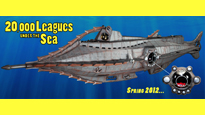 January 18th, 2012 at 5:37 pm -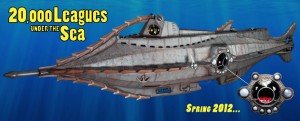 Auction house, Profiles in History, has announced on their Twitter account that a Nautilus style model from 20,000 Leagues Under the Sea, will be part of their Spring 2012 Hollywood memorabilia auction.
Stay tuned to Movie Prop Collectors for any additional information on the specifics of the model is being auctioned as well as additional upcoming auction updates.
To see the original, screen used Nautilus model still in the Disney archives, visit Movie Prop Collectors YouTube channel.
Original Nautilus model owned by the Disney Archives at the first D23 convention held in 2009.