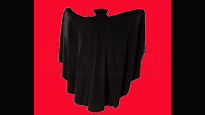 October 28th, 2011 at 5:30 pm -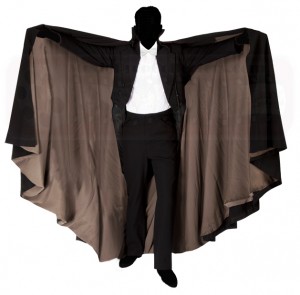 I received this press release just in time for Halloween :).
As part of their "ICONS OF HOLLYWOOD" December 15, 16 & 17, auction house, Profiles in History has announced one of the many historic Hollywood items they will be auctioning will be "the" cape worn by Bela Lugosi in Universal Pictures 1931 film classic, "Dracula".
PROFILES IN HISTORY TO AUCTION BELA LUGOSI'S
LEGENDARY 1931 "DRACULA" CAPE
HAPPY HALLOWEEN!
CAPE AND OTHER ITEMS FROM THE LUGOSI FAMILY WILL
BE A PART OF PROFILES IN HISTORY'S
"ICONS OF HOLLYWOOD" AUCTION
DECEMBER 15, 16 & 17 AT
THE PALEY CENTER FOR MEDIA IN BEVERLY HILLS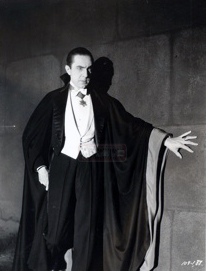 OCTOBER 27, LOS ANGELES- Profiles in History, run by Joe Maddalena, is proud to present items up for auction from the vampire that inspired it all, Bela Lugosi. It was Hungarian-born Lugosi's portrayal as "Count Dracula" in the 1931 Universal classic 
Dracula
 that became the archetype for the character for generations to follow.  Following the tremendous success in 
Dracula
, Bela Lugosi became the quintessential horror actor.  Among his horror roles, Bela played "Ygor" in 
Son of Frankenstein
 (1939); "Dr. Mirakle" in 
Murders In the Rue Morgue 
(1932); "'Murder' Legendre" in 
White Zombie 
(1932); "Sayer of the Law" in
Island of Lost Souls 
(1932) and "Frankenstein Monster" in 
Frankenstein Meets the Wolf Man
 in 1943.
There are seventeen lots in all, consigned by none other than Bela's son, Bela Lugosi, Jr., and they have never before been available for sale.
(©)Universal Studios 1931
When one hears the name "Dracula," it is difficult to imagine anyone but Bela Lugosi wearing his signature mode of dress—white tie and tails and a cape—which he wore in the 1931 Universal Pictures classicDracula. The "Dracula" cape embodies the iconic horror figure and is now up for auction. The cape is screen-used and consigned by his son directly. Prior to his death in 1956, Bela Lugosi gave the cape to his wife of 20 years, Lillian Lugosi, and the mother of Bela Jr., telling her that it was the cape from the film and to keep the cape for his son.  Upon Lugosi's death in 1956, the family decided that he should be buried in his Dracula costume.
Given Bela Lugosi's wish that his son should have the cape, the family dressed the body in a lighter weight version of the cape he used when making personal appearances.  Lillian retained the original 1931 cape and left it, along with her other possessions, to Bela Jr. upon her death in 1981.  It has remained in his possession continuously.  Without question, this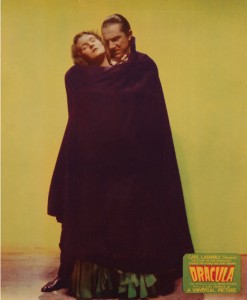 is the greatest single horror garment in cinema history. The auction pre-sale estimate is $1,500,000 – $2,000,000.
Other items from Lugosi's family include, Bela's own near mint Dracula jumbo lobby card, The Return of the Vampire original U.S. title-card, a U.S. title card from Abbott and Costello Meet Frankenstein, a selection of vintage photographs from the Lugosi family album, amongst others.
These items join the only pair of screen used Ruby Slippers from The Wizard of Oz left on the market. These iconic shoes are from the climax of the film and are estimated at $2,000,000-3,000,000. Also up for auction is the DeLorean from Back to the Future III ($400,000 – $600,000,) Marilyn Monroe's wedding ring from her marriage to Joe DiMaggio ($300,000 to $500,000) and a Marilyn Monroe nude painting by Earl Moran ($70,000 to $90,000.) Stay tuned for the announcement of more iconic items up for auction.
All photos © Profiles in History, Universal, The Bela Lugosi Family, & Movie Prop Collectors.