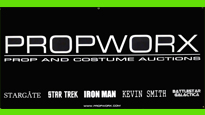 October 23rd, 2011 at 10:10 pm -
The Propworx Ironman 2/Hulk auction held this weekend has concluded and Movie Prop Collectors has the auction numbers for readers.
Of the 229 lots, 31 were passed with no bids and the remaining 198 lots sold for $122,150 with the amount reaching $150,244.50 with the 23% buyers premium added.
149 lots were from Marvel's "Ironman 2″. and 80 lots from Marvel's "The Hulk".
Below are some of the auction highlights:
Lot 1: Ironman 2 Screen Used Stunt Whiplash V1 Suit: Est: $5000-$8000- Sold for $6000
Lot 13: Ironman 2 Tony Stark Hero Racing Suit: Est: $3,000-$5,000- Sold for $4250
Lot 21: Ironman 2 Black Widow S.H.I.E.L.D Hero Uniform: Est: $3,000- $5,000- Sold for $8,000
Lot 59: Ironman 2 VFX Opening Suitcase Armor: Est: $600-$800- Sold for $3,250
Click below for auction results including sold and unsold lots: