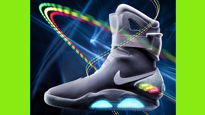 September 8th, 2011 at 9:00 pm -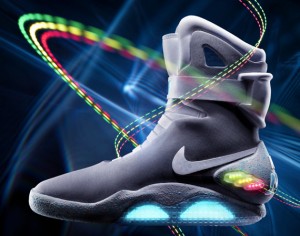 The Nike MAG shoes worn by Michael J Fox, as Marty Mcfly  in the classic film, Back to the Future Part 2, have long been popular with movie prop collectors, Back to the Future fans, and sneaker collectors.
Now sneaker maker, Nike has taken the sneaker into the real world. They don't self-lace but the MAG has the movie's LED- glowing Nike logos. Nike has produced a limited run of 1,500 pairs of the MAG sneaker.
Each will be auctioned on EBay at nikemag.eBay.com, and all of the net proceeds will go to the Michael J. Fox Foundation to help fight Parkinson's disease, according to Nike.
The auction kicks off at tonight at 8:30 p.m. PST, 11:30PM EST and will end Sept. 18, with 150 pairs sold through EBay each day.
Google co-founder Sergey Brin & his wife Anne Wojciki, who co-founded the DNA-testing company 23andme, will match all donations to the Michael J. Fox Foundation, up to $50 million, through the end of 2012.
Check out these REAL SELF LACING SNEAKERS: