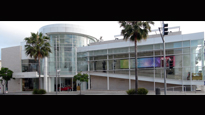 June 19th, 2011 at 7:40 am -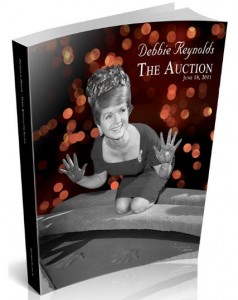 I just got back to my hotel at 1:45 a.m. after attending the unbelievable, once in a lifetime, Debbie Reynolds Collection auction held by Profiles in History at The Paley Center for Media.
Excited fans both of Debbie Reynolds and the Hollywood history she archived over 40 years started lining up to get in the Paley Center at 8:30 am !
The line went around the corner of the Paley and the few last minute bidders hurried to register to try to get a seat in the packed auction.
There were two floors of bidders live, as well as phone bidders and internet bidder from around the world vying for a part of Miss Reynolds historic collection of costumes, props, and artwork from Hollywood most beloved films.
The auction broke records in the amount sold for any memorabilia auction of it's kind with approximately $22.8 million dollars in sales.
One of the highlights of the event was the heartfelt greeting Debbie gave to auction attendees which Movie Prop Collectors was able to document.
The famed Marilyn Monroe white subway dress from The Seven Year Itch sold for an astounding $4.6 million dollars, and that was not including the additional 20% bidders premium !
Here are some highlights of the prices realized:
Lot #1: Bell and Howell 2709 35 mm motion picture camera circa 1915: $36,900.00
Lot #2: Rudolph Valentino "Juan Gallardo" signature "Suit of Lights" matador outfit by Travis Banton: $258,300.00
Lot #110: Judy Garland "Dorothy Gale" blue cotton test dress from The Wizard of Oz: $1,119,300.00
Lot #111:  Judy Garland "Dorothy Gale" Arabian-pattern test "Ruby Slippers" from The Wizard of Oz: $627,300.00
Lot #164: Elizabeth Taylor "Velvet Brown" racing silks and riding pants from National Velvet: $73,800.00
Lot #198: Ingrid Bergman signature full suit of armor with chain mail vest from Joan of Arc: $61,500.00
Lot #273: Debbie Reynolds "Kathy Selden" flapper dress for "Good Mornin'" number in Singin' in the Rain: $33,825.00
Lot#283:  Marilyn Monroe "Lorelei Lee" signature red-sequined "Two Little Girls from Little Rock" showgirl gown with feathered hat by Travilla for Gentlemen Prefer Blondes: $1,476,000.00
Lot#286:  1952 red MG TD used by Marilyn Monroe and Cary Grant in Monkey Business: $258,300.00
Lot#313:   Marilyn Monroe "Kay Weston" gold charmeuse saloon-girl gown by Travilla for River of No Return: 627,310.00
Lot# 314:  Marilyn Monroe "Vicky" tropical print pink, black and white skirt, black halter top and hat from "Heat Wave" number by Travilla for There's No Business Like Show Business: $615,00.00
Lot#354: Marilyn Monroe "The Girl" ivory pleated "Subway" dress by Travilla, the most recognized costume in film history, from The Seven Year Itch: $5,658,000
Lot#357: Grace Kelly "Frances Stevens" 2-piece rose crepe outfit from scenic drive in To Catch a Thief: $553,300.00
Lot#419: Charlton Heston "Judah Ben-Hur" tunic and cape for royal procession into Rome from Ben-Hur: $393,600.00
Lot#473: Elizabeth Taylor signature royal ceremonial headdress from the 1963 Cleopatra: $123,000.00
Lot#479: Elizabeth Taylor "Cleopatra" red crown and royal dome from Cleopatra: $86,100.00
Lot#506: Audrey Hepburn's iconic Ascot dress from My Fair Lady: $4,551,000.00
Lot#508: Julie Andrews "Maria" acoustic guitar, autographed by Andrews, from The Sound of Music: $172,000
Lot#510: Julie Andrews "Maria" red-brown nubby jumper with white blouse from "Do-Re-Mi" number from The Sound of Music: $676,500.00
Lot#529: Barbra Streisand "Fanny Brice" Purple and green stripped leotard with hat from Funny Girl: $79,950.00
Lot#537: Barbra Streisand "Dolly Levi" signature purple period dress with purse and bustle from Hello, Dolly!: $67,650.00
Lot#538: Barbra Streisand "Dolly Levi" signature sleeveless gold velvet heavily jeweled gown with shoes and headpiece from Hello, Dolly!:$123,000.00
I shot hours of 1080p video and was able to document this historic event with exciting bidding, auction comments from Debbie Reynolds and more.
Stay tuned as I update coverage after processing the videos and photographs.