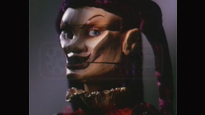 February 12th, 2011 at 10:00 am -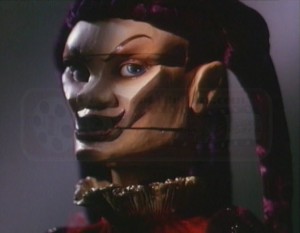 Today we are featuring  a new series of articles for collectors:
Screen Seen. 
Screen Seen will illustrate how anyone can go about screen matching their favorite props and costumes from their favorite films.
Screen matching a prop, costume, or artifact from a film is one of the tools archivists and collectors can use to help authenticate an item.
It's not always possible to screen match  for a variety of reasons. A few of those reasons would be the item is not seen in a clear enough, or close enough shot in the film, lighting conditions of the scene, quality of the print of the film, or quite simply that the item was altered during or after filming.
Age of the item can come into play too. Paint can wear off, colors can fade, a piece can be missing, etc.
Collectors should always remember that just because an item cannot be screen matched, does not necessarily mean the item was not used in the film. Screen matching can be a part of what collectors can do to identify an item they have or may be interested in.  
One of the most important steps to verify authenticity of an original prop or costume would be where the item came from or its provenance.
Provenance is defined as the origin, or the source of something, including the history of the ownership or location of the item(s) and is one of, if not the most important thing in assisting collectors and historians on the authenticity and history of an object.
In my article on authenticating original props and costumes I mention these 3 basic steps one should take when researching a potential original artifact from a film.
1.)  What exactly is this? Have the seller clearly state exactly what the item is, where it came from, and whether they know how many were created for the film. For example, only saying "production made" is not good enough if you want a screen used item. If you are ok with a "production made" (which is fine) item, ask if it is known why it was not used in the film or what information the seller can share with you and what they can verify concerning the item.
2.) What guarantee comes with the item if it is proven to not be as represented by the seller? An honest individual seller in a private deal, should  have no problems refunding your money if the prop/costume is proven to be not as described.
3.) Does the seller have any history with other people which can be verified?
Get all of the above in writing if possible. The more you can verify the better.
Now that I have briefly outlined things collectors can do, I am ready to show you the first of some very interesting screen matches I have done and am in the process of doing on items you can see in the Movie Prop Collectors museum.
A one of a kind, screen used and matched hero Jester puppet head used in the original Puppetmaster, as well as 4 of it's succeeding sequels.
The next page features instuctions for how to get screengrabs/captures from Blu Ray and DVD's as well as a video of scenes from Puppetmaster and Puppetmaster 2 and their accompying screen grabs matching Movie Prop Collectors actual Jester puppet head used in the scenes.