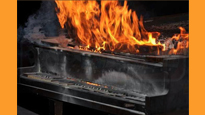 February 8th, 2011 at 5:35 pm -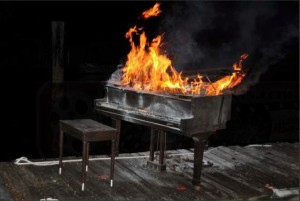 I recently came across this interesting story from the Miami AP News which was covered by mainstream media at the time. 
A baby grand piano which was used as a prop in an unnamed film production was set on fire and left sitting on a sand bar in Biscayne Bay, east of Miami Shores. 
Four years prior it was stored in the garage of the mother of Burn Notice production designer, J. Mark Harrington. 
His son, Nicholas Harrington, got the piano from his Grandmothers garage in the hopes he could make  a promotional video featuring the piano to get in to college. 
That never happened as on New Years Eve, the piano was set on fire when crowds at a Harrington party wanted to burn it, which they did. The fact that Nicholas's dad worked on Burn Notice is a bit ironic ;). 
The following day, the piano was left on the sandbar where it was set on fire again, and then left there. 

          At the time this was reported the piano was still on the sandbar…