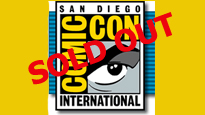 February 7th, 2011 at 8:45 am -
According to Comic Cons web site, they have sold out of all of their single day and multi day badges.
Comic Con will be held at the Sand Diego Convention Center, Thursday, July 21st thru Sunday, July 24th, with their preview day being held Wednesday, July 20th 2011.
Check  Comic Cons web site for further information, and see our coverage of last years Comic Con 2010.