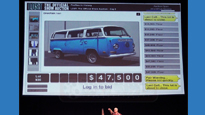 August 24th, 2010 at 9:59 am -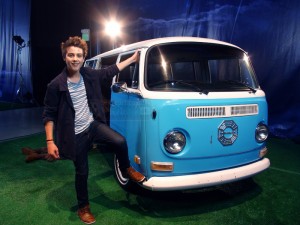 Day two of the ABC and Profiles in History LOST Auction was just as good as the first day with record setting sales for an auction of its type.
Sales reached almost an astounding 2 million dollars for the two day event.
The highest sales for the first day of auction were for lot #724, the time shifting wheel which sold for $25,000, which was @ 42% more than it's estimate!
For the second day of the event, the Dharma van sold for an astounding $47,500!
Below is a list of some of the final bid highlights from Profiles in History's publicity rep, Marc Kruskol:
DHARMA Van: $47,500
· Dial mechanism & mirror array from the Lighthouse: $27,500
· Island time-shifting frozen wheel: $22,500
· DHARMA Jeep: $20,000
· Hurley's Camaro: $20,000
· Daniel Faraday's journal w/extensive handwritten notes: $20,000
· Swan Station Computer: $16,000
· "Pilot" script signed by J.J. Abrams & Damon Lindelof  $15,000
· Season Six production artwork: $15,000
· Season One production artwork: $14,000
· Desmond's fail-safe key with "Joe Inman" dog tag; $11,000
· Jack's death costume from the series finale, "The End": $9,000
· Large section of Oceanic Flight 815 wreckage: $9,000
· Charlie's "DS" ring: $9,000
· Locke's Compass: $8,000
· Baby Aaron's crib: $8,000
· Fragment of Jacob's tapestry: $6,500
· Hurley's winning Mega Lotto Jackpot ticket: $5,500
· Jack's Pilot episode costume" $3,000
· Sawyer's paperback copy of "Watership Down":  $2,750
· Sawyer's improvised reading glasses from Season Three: $2,250
· Set chair for Matthew Fox "Jack": $1,200
All of the props, costumes, and set pieces sold for mutiple amount over their estimates and every lot sold the first day, and all but 4 lots sold the second day.
Here is a video highlight of both days of the event. I am processing a few  interviews with some of the LOST cast and prop master, Rob Kyker which will be up shortly.